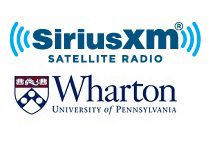 SiriusXM to Launch "Business Radio Powered by The Wharton School,â€
the First Full-Time Radio Channel Focused on Business and Management
NEW YORK– Sirius XM Radio (NASDAQ: SIRI) and The Wharton School of the University of Pennsylvania today announced the creation of "Business Radio Powered by the Wharton School,†an exclusive, groundbreaking 24/7 channel featuring easily accessible information on a wide range of business topics. From hiring and motivating staff to creating a business plan to raising capital and financing businesses, the channel will be delivered directly by the world's top business experts and leading minds in business education at The Wharton School.
Business Radio, created exclusively in collaboration with The Wharton School, with an expected launch in early 2014, will air via satellite on SiriusXM channel 111, and through the SiriusXM Internet Radio App on smartphones and other connected devices, as well as online at siriusxm.com. Business Radio will feature world-renowned and distinguished professors and alumni as regular weekly hosts, plus executives, entrepreneurs, innovators and other experts as special hosts and guests.
"In a world where it's never been easier to start your own business, and where even the titans of industry are challenged by newcomers every day, people have a thirst for expert information on the fundamentals of running a business successfully. Business Radio Powered by The Wharton School will deliver indispensable information and guidance to a range of listeners, whether they are first-time job candidates, managers, entrepreneurs or even CEOs,†said Scott Greenstein, President and Chief Content Officer, SiriusXM. "Our listeners will get direct access to some of the brightest minds in business today. The range of topics will be expansive but the discussion and conversation will surely be useful every day in our listeners' own working lives.â€
Thomas S. Robertson, Dean of The Wharton School, said, "We are pleased to announce this prestigious new channel with SiriusXM. Business Radio Powered by the Wharton School will provide us with a unique avenue to disseminate creative cutting-edge programming using the full breadth of Wharton's faculty research and knowledge in the global community. This initiative aligns well with Wharton's reputation for innovation and will allow us to reach a broad range of mainstream listeners interested in business topics.â€
Business Radio Powered by the Wharton School will offer listeners direct access to world-class Wharton faculty — trusted advisors of corporations and governments worldwide and one of the most cited, most published faculties of all top-tier business schools — from a wide range of fields and areas of expertise. The advice, information, topics and real-life people/businesses explored on the channel will help listeners of all ages, backgrounds and levels of experience —entrepreneurs still formulating plans for their great ideas in their heads, generations of a family business, longtime mom-and-pop store owners and seasoned business executives alike — to navigate the 21st century business world.
Every aspect of business will be covered in an informative, entertaining and accessible manner on Business Radio — from the biggest headlines of the day to the nuts/bolts of how to build a business from the ground up — as well as selling/marketing with social media; how to connect with consumers and cultivate long-term customer/client relationships; Management 101: hiring, firing, compensation and benefits; ethics; leadership; businesses of the future; and advice/ideas geared toward women in business.
"Business Radio Powered by The Wharton School†programming currently in development is expected to include:
>
Market Update with Jeremy Siegel — a weekly, in-depth analysis of the dynamics of the stock market hosted by Wharton's Russell E. Palmer Professor of Finance.
>
Launch Pad – new ventures go live on Business Radio and listeners weigh in. Hosted by Karl T. Ulrich, Vice Dean of Innovation; CIBC Professor of Entrepreneurship and e-Commerce; Professor of Mechanical Engineering.
>
When Things Go Wrong — listeners share customer service experiences gone awry and Business Radio gets to the bottom of the situation. Hosted by Christian Terwiesch, Andrew M. Heller Professor, and Marshall L. Fisher, UPS Professor, both of the department of Operations and Information Management.
>
Sports Business — listeners are invited behind-the-scenes to explore the business issues underlying the multibilliondollar sports industry. Hosted by Kenneth L. Shropshire, David W. Hauck Professor of Legal Studies and Business Ethics; Director, Wharton Sports Business Initiative.
>
The Business of Retailing — understanding and managing retailing, the economy's largest sector. Hosted by Barbara E. Kahn, Patty and Jay H. Baker Professor; Director, Jay H. Baker Retailing Center; Professor of Marketing.
Visit
Welcome to the world of satellite radio - SiriusXM Radio
and
The Wharton School of the University of Pennsylvania
for more information.
###