Countdown To Launch of SiriusXM's FM-6 Satellite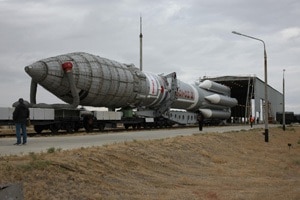 We are less than 24 hours away from the launch of SiriusXM's latest satellite, FM-6. The launch was initially scheduled for Sunday, October 20th, but has been delayed by 24 hours due to issues with the satellite ground station network required for the launch and early orbital operations of the Sirius FM-6 spacecraft.
Khrunichev State Research and Production Space Center (Khrunichev) and International Launch Services (ILS) plan to make another attempt at 12:12 a.m. local time on October 22 in Baikonur
(2:12 pm EDT on October 21)
. The satellite was built for Sirius XM Radio of New York, by SSL of California.
It was determined by SSL and SiriusXM, as a precautionary measure, that additional time was needed to evaluate issues related to required remote satellite ground stations. The Proton Launch Vehicle and Sirius FM-6 satellite remain in a safe configuration with no technical issues at the launch site.
The launch of this satellite has seen several delays since 2012, but it appears that with the launch vehicle and satellite rolled out to the pad, that we will finally see the newest SiriusXM satellite get into orbit. The chart to the left shows the progression of events.
Readers that are interested in seeing the launch coverage live can do so by visiting the launch coverage page of ILS.
Sirius FM-6 is expected to help with the delivery of the satellite radio providers audio content and data services across North America.
According to the company, Sirius FM-6 satellite will ensure SiriusXM's array of audio and data services are received by vehicles, mobile devices and home receivers and will play an important role in bolstering the continuity of service for years to come.
The satellite has an expected life cycle of 15 years, butr satellites can operate longer than expected. FM-6 will be placed in a geo-stationary orbit. This means that the satellite will remain in the same place in the sky. The orbit is above the equator and the satellite signal covers most of Central and North America.
Once the launch is completed, the company will make several moves to properly position the satellite. Over the next several days the company will also conduct many tests before ultimately declaring the mission a success. The riskiest part of this process is typically the launch itself.